Lately it seems like most of my girl friends were just poof, all the sudden preggers! It must have been the hot Texas weather we had keeping everyone inside playing under the sheets. *wink wink* Or maybe it was in the water. What ever it was I am SO very excited for all of them and excited that I didn't drink the same water! All in due time Momma. I promise I will make you a Kiki one day.
I attended the first of many showers to come this past weekend. One of the cute little gifts I made were these little mustache binky's or pacy's or golly gaw's or whatever your family calls them.
Then to add to the 'little man' theme I made these little onesies to go along with the pacy's. I bought a set of four onesies from Target ordered these iron-on tie cut outs from
Etsy.com
I can't wait to see what the precious little baby boys look like with a tie and a mustache! I'm guessing a combination of the following.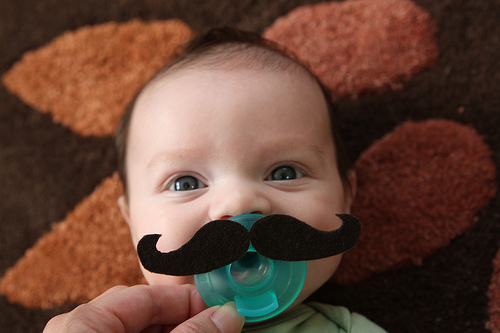 squeee at cute wittle babies,
LeFoof