ohMgee!! I had to blog about this E-mediately! I was so excited when I found out today that there is a nail polish collection based on my recent reading obsession, '
The Hunger Games'
.
If you haven't at least heard of it you may have been under a rock for a while. ;-)
Anyhow here's the color swatches, the names are fabulous! Which colors are your favorite?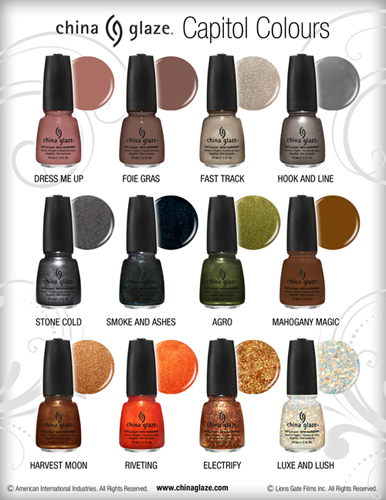 These are the names they were going to use originally, same colors.
This is the info that Lionsgate has provided about the collection:
In keeping with the powerful themes and message of the story, the collection of nail polish will be inspired exclusively by one of the book's distinct settings-the Capital and the nation of Panem. Awash in lavish fashion, food, and entertainment, Capitol citizens enjoy extreme cosmetics and body modifications, bold wigs, and outlandish costumes.
The line will be available March 1, 2012 and the movie releases March 23, 2012! :)
According to The Hob, they have figured out that each color in the collection corresponds with each District.
Luxe and Lush – District 1 (Luxury)
Stone Cold – District 2 (Masonry)
Riveting – District 3 (Technology)
Hook and Line – District 4 (Fishing)
Electrify – District 5 (Power)
Fast Track – District 6 (Transportation)
Mahogany Magic – District 7 (Lumber)
Dress Me Up – District 8 (Textiles)
Harvest Moon – District 9 (Grain)
Foie Gras – District 10 (Livestock)
Agro – District 11 (Agriculture)
Smoke and Ashes – District 12 (Mining)
I can't decide which one is my top fave because they're all great and I actually already own colors that look similar. But I think I'm gonna add to my collection, Lux and Lush, Electrifying (obvi they both have glitter) I'm interested in seeing what Mahogany Magic and Dress Me Up look like in person.
What are your faves, would you sport any of these??
The cast looking very 'all American'.
hooray Monday is almost over,
PS I have a fun and simple DIY project I'm excited to share with y'all that I finished tonight!